Australian Made Water Tanks for Australian Conditions
Proudly Serving Australia For Over 25 Years
Kingspan Rhino water tank is one of Australia's leading steel water tank manufacturer. Our water tanks are trusted by Australia's rural communities and businesses for their water security needs.
Synonymous with rural Australia's scenery, and with thousands of tanks installed throughout Australia, you are bound to drive past one of our water tanks in rural Australia.
What We Do For The Community
Below are some examples of how we give back to the community
The Cotton On Foundation raise about $20M a year for humanitarian projects.Through the Cotton On Foundation Kingspan Rhino supplied and installed at a village in Uganda with 8 x 260kl tanks to help supply fresh drinking water for the new schools that the foundation has built from their fundraising efforts around the world.
Zoos South Australia (which includes Adelaide and Monarto Zoo) is well into their Wild Africa Project at Monarto Zoo. This project includes the construction of a brand new Valley of the Lemurs behind the scenes experience and a Rhino Quarantine and Management Centre.

Thanks to two years of fundraising, Zoos SA is able to build these new sites, raising much needed awareness for the animals. As proud partners, Kingspan Rhino have donated and installed 2 x 162,890L and 2 x 58,640L tanks.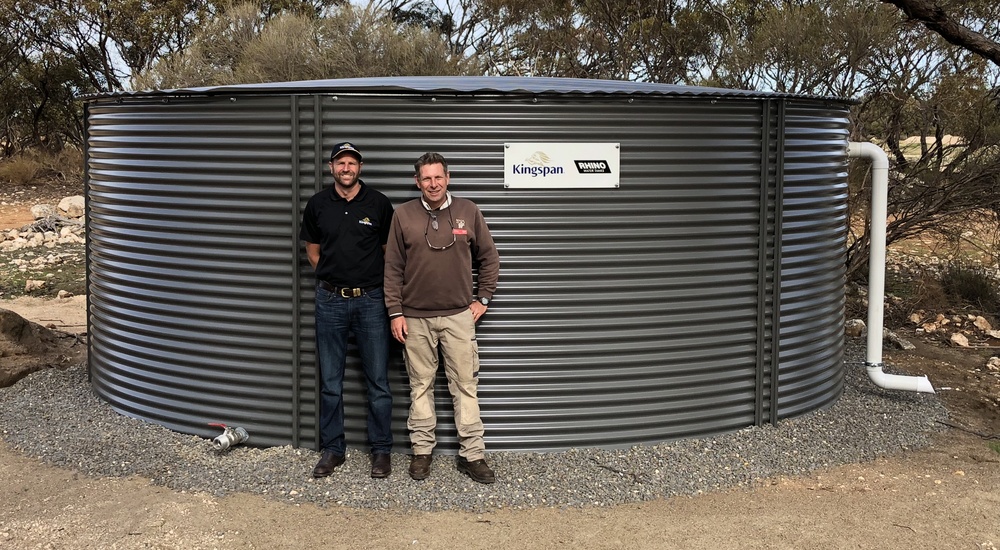 Currabubula – Liverpool Plains Shire
The Kingspan Rhino team reached out to the Liverpool Plains Shire Council wanting to donate a 104,000 Litre tank filled with drinking water. The council chose to install the tank at Currabubula, a town 18 km outside of Tamworth with a community of about 330 people.
This community of people were mainly relying on bore water for drinking due to the drought conditions in the area. The bore water was not ideal for drinking as it contained too much iron and calcium.