BASE PREPARATION GUIDE
You can use the information below as a guidance to plan for your pad preparation.
Preferred Base Material
Fine Crusher Dust
Screened Sand (do NOT use recycled sand as it may contain contaminants)
Screened Sand is NOT suitable for RT-310 and RT-365
Compaction
Minimum of 120kPa
Levelling
The Pad must be LEVEL to +/- 10mm
Site Access
Please ensure adequate access to the site for a small
truck or 4WD and trailer, bearing in mind soil and
weather conditions.


Vehicle access is to be available to within 10 metres
of site.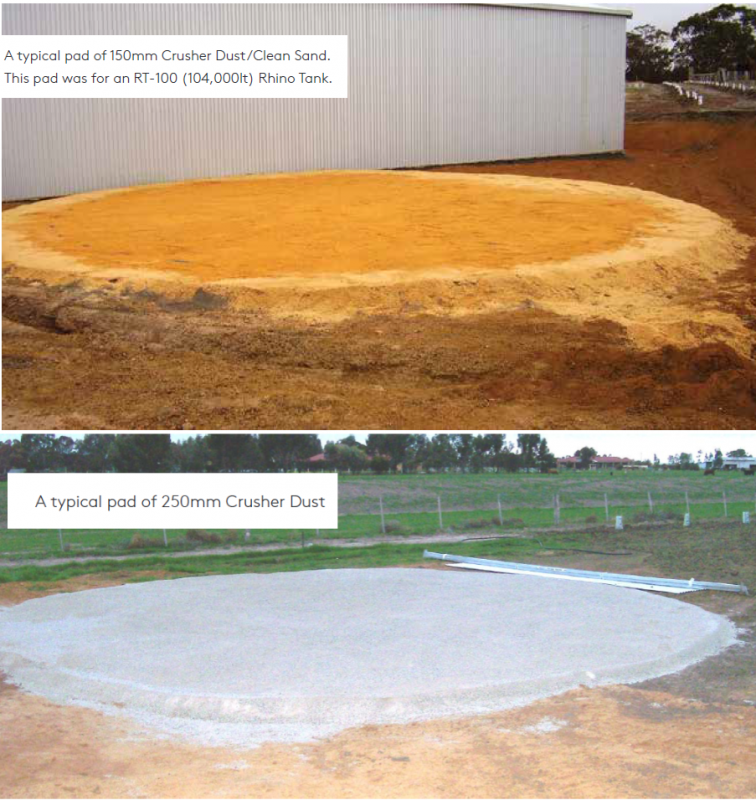 Reference Table
 

MODEL

MINIMUM PAD THICKNESS REQUIRED

m3 OF SAND/CRUSHER DUST REQUIRED

m 3 BLUE METAL (20mm) EXCLUSION ZONE
REQUIRED AROUND
TANK BASE

RT-25

5.5m

150mm

3.5m 3

0.8m 3

RT-40

6.5m

150mm

4.5m 3

0.8m 3

RT-60

7.5m

150mm

6.0m 3

1.0m 3

RT-80

8.5m

150mm

8.0m 3

1.0m 3

RT-100

9.5m

150mm

10.0m 3

1.2m 3

RT-130

10.5m

150mm

13.0m 3

1.2m 3

RT-160

11.5m

150mm

16.0m 3

1.6m 3

RT-200

12.5m

150mm

19.0m 3

1.6m 3

RT-230

13.5m

150mm

22.0m 3

2.0m 3

RT-275

14.5m

150mm

25.0m 3

2.1m 3

RT-310

14.0m

250mm

2.0m 3

RT-365

15.0m

250mm

2.1m 3