Jalna Feedlot
Award winning beef production feedlot leads the way in smart, sustainable business.
As a fifth-generation farmer David Gillett knows all too well how rewarding, and challenging, life on the land can be. David and his wife Katy run Jalna Feedlot, an award winning premium beef producer, at Anakie, near Geelong, in Victoria.
The property has been in David's family since 1946 and innovating has been key to the ongoing success of their endeavours.

Originally they ran Merino sheep producing quality, superfine fleece, today they run feedlot operations producing prime beef cattle.
The Gillett's have faced their fair share of challenges along the way not the least of which was a catastrophic fire in early 2016. In the height of summer, with temperatures not far off 40˚C, disaster struck when their hayshed, packed to the rafters with over $1 million worth of feed for the coming year, was destroyed by a suspicious fire which then burnt for weeks.

After this setback David and Katy didn't dwell on their misfortune choosing instead to look towards the future, planning how they could drive their operations to new levels of quality, productivity and sustainability.

David believes in staying not just a step, but streets ahead of average industry standards. In 2017 they commenced work on a project that would see an enormous 8,500sq/m of their feedlot put under roof.

This huge undertaking was to cost in excess of $1million and was made possible through the support of the Coles Nurture Fund. This fund provides grants or interest-free loans to help fund the development of new market-leading products, technologies and processes. The proposal from Jalna fitted the philanthropic and practical aims of the fund and they kicked the project off by tipping in $500,000.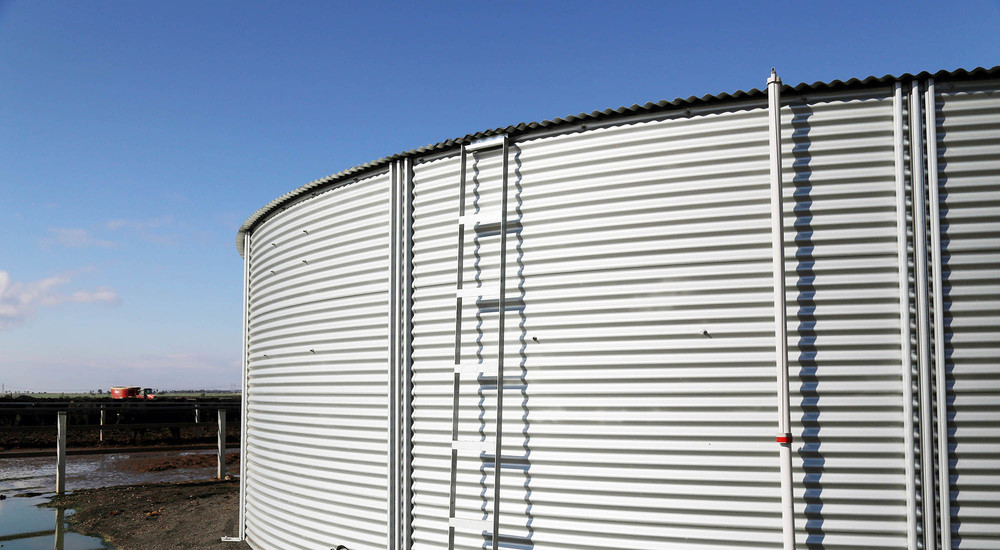 Kingspan have been making tanks locally for rural applications since 1934 so nobody has comparable depth of expertise, experience and knowledge.
 
And as all Rhino tanks are manufactured to ISO 9001 genuine, certified quality and durability is assured.
 
Based on the average rainfall for the area the estimate is that around 4.5million litres of water can potentially be captured for use every year. For such a huge roof area a networked capture and storage system of tanks is required to maximise the potential of the catchment.
 
Flexibility of use now and options for future expansion are the crucial elements of a great harvesting system. Both have been designed into and deployed in the Rhino tank system at Jalna.

The main catchment tank is a huge 375Kl with plans to add a second of the same size in future. When this main tank hits 33% capacity it automatically pumps out to three daisy-chained 260Kl tanks. Water is then drawn daily from these tanks. David is also looking to add an extra 275Kl to these three to increase his storage further still. This system ensures that there is always storage capacity available in the main tank in-case of huge downpours and that reliable volumes will be available for daily use.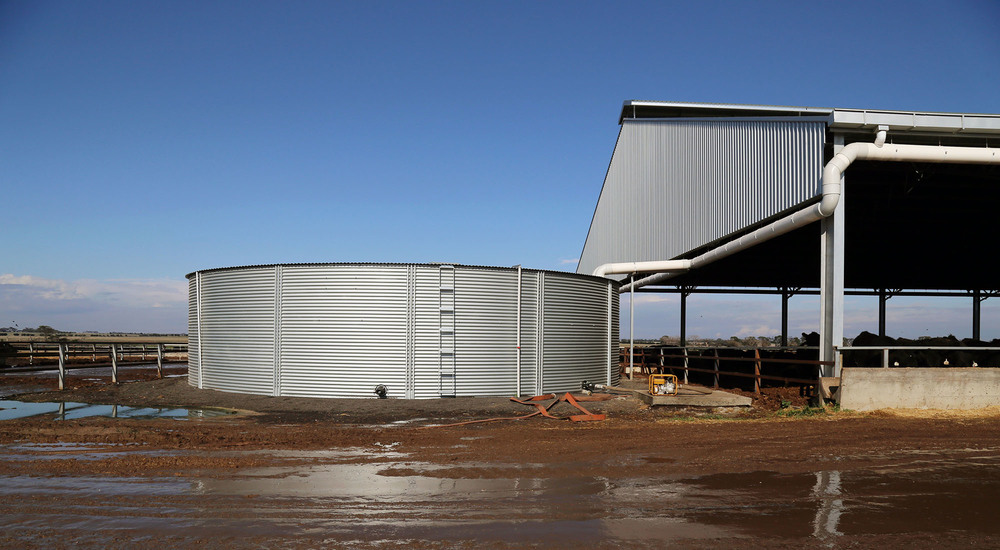 Extra peace of mind comes from the lining in all Rhino tanks. They all have a reinforced, food-grade, 5-layer polyethylene liner making them ideal for rural applications such as stock watering.

The flow-on environmental benefits from this catchment and Rhino storage system are vast. 4.5million litres of water that had the potential to be causing serious erosion, siltation in local creeks and streams not to mention on-site capture and disposal problems is instead being harvested and put to positive use.
 
As with many regional areas water supply and security is a growing concern. Jalna had previously been drawing much of their water from town supply. This new self-sufficiency has seen the property all but stop town water use, something that undoubtedly came as a great relief to many locals and the local authorities responsible for water management.
 
An added bonus of having hundreds of thousands of litres of water on hand at any time is also found in safety and property protection. Should the unthinkable happen again and fire break out there is a large and accessible static water supply to tap into.
 
The Kingspan Rhino tank system at Jalna is at first glance just part of a smart catchment and storage network but it is much more than that.
 
It has reduced operating costs and increased profitability for the property, provided a terrific range of positive environmental benefits, improved water security for both the property and the nearby township, dramatically improved sustainability of the operations without compromising productivity and created a better environment for both stock and workers.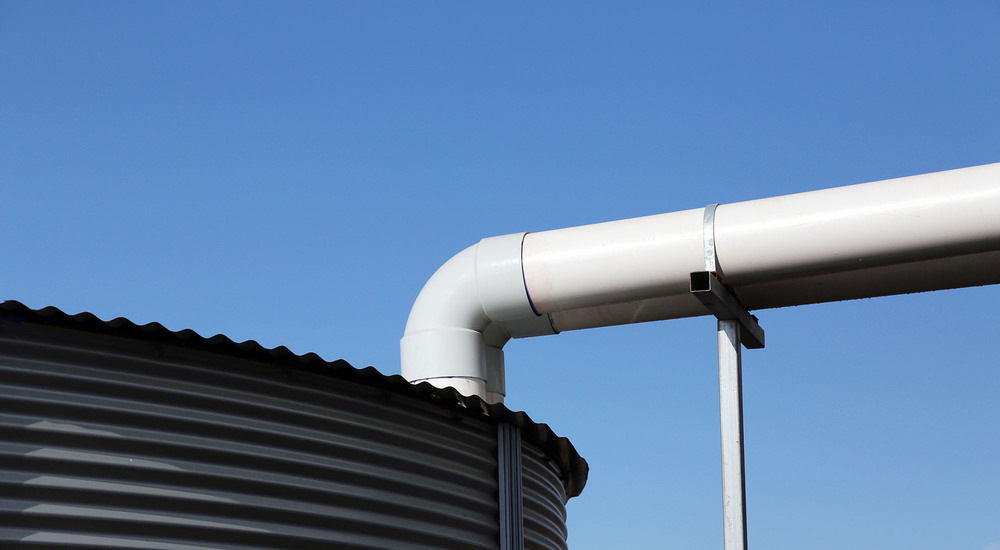 PRODUCT OR SERVICES MENTIONED
Click on any of the options below to view more information.